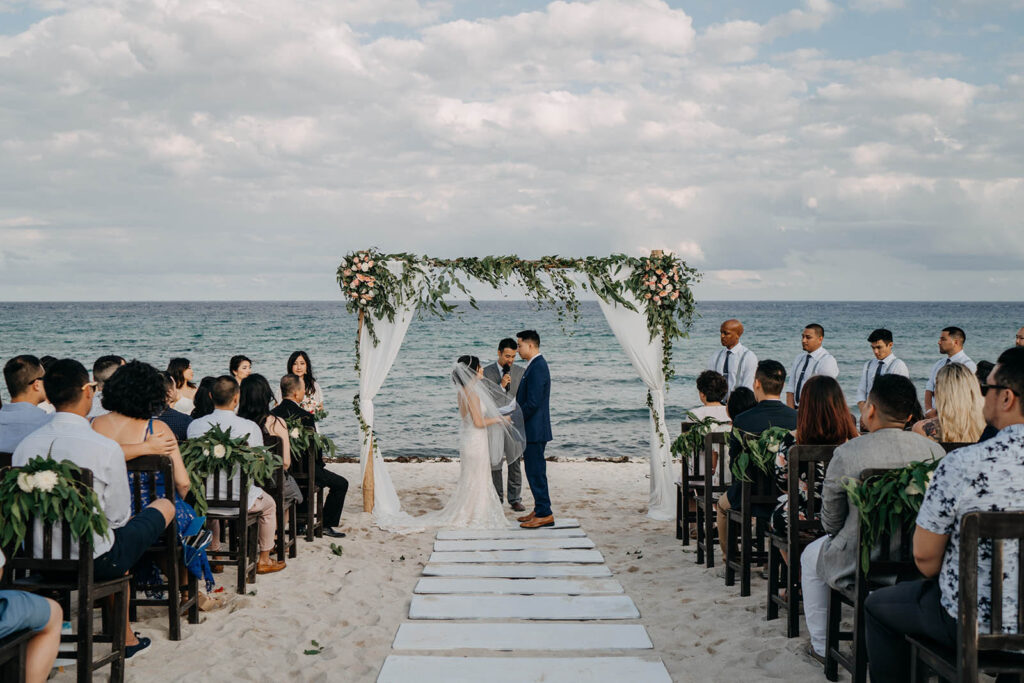 How many times have you thought about the moment you walk down the aisle? In this article you'll find the most accurate songs on each category; processional melodies for traditional walk lovers, mellow tunes for a heart melting momnet and upbeat ryhtms to give a fun touch to your entrance.
I am pretty sure you have thought about your entrance more than a few times. But have you given a thought on what musical background you will have that marvelous day?
Music can have an enormous effect on this specific moment. Now, when it comes to music, this always goes attached to the wedding style. Going from a classical to a fun moment will depend exclusively of you.
Choosing the specific music will vary on the mood you want to set for your entrance because if there's something music can definitely do is leading our way of feeling through any moment whether it is exciting, melancholic, touching, and others —just like movies' soundtrack do. Here, we bring several options and a Spotify list for each classification, just in case you rather listen to them.
Processional Songs to Walk Down the Aisle to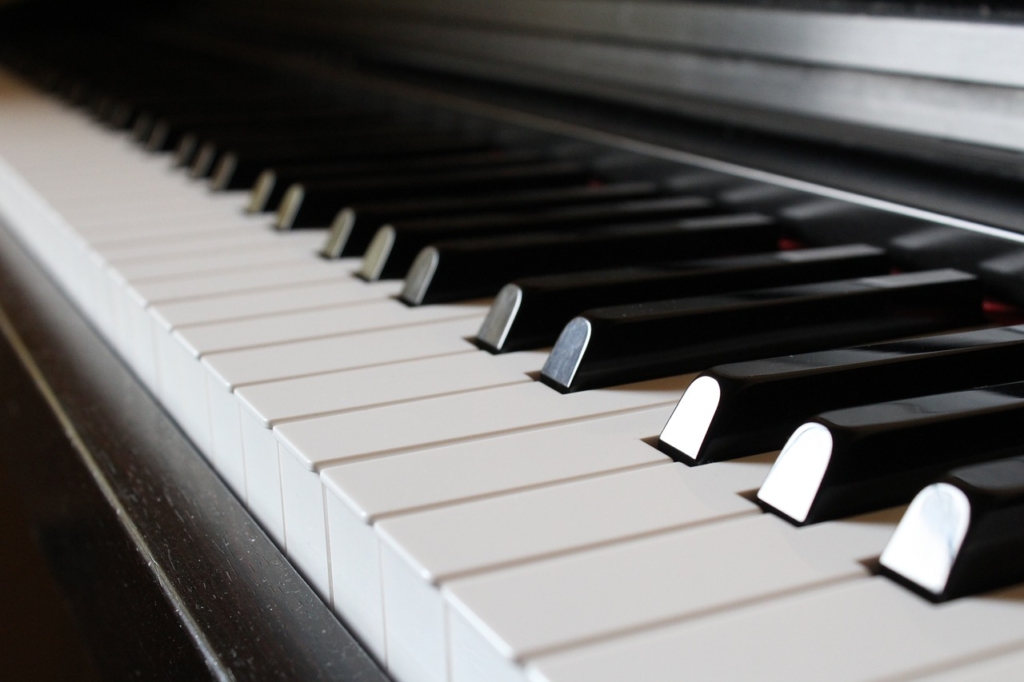 Bridal Chorus (Wedding March), Richard Wagner
This march has accompanied a numerous quantity of brides and grooms in that magic moment, known as an iconic tune. The tones are very characteristic of that melody we have listen multiple times in weddings of all kinds.
Eternal Source of Light Divine, George Frederic Handle
Do Megan Markel and Prince Harry ring a bell? This beautiful sonata was the one accompanying Harry and Megan on the Royal Wedding. Its interpretation has a touch of opera and Gregorian tones.
Spring, Vivaldi
This joyful melody will set a delicately excited mood on everybody. An accentuated rhythm marked by the violin and violoncellos in the background make this instrumental piece unique.
The Prince of Denmark's March (Trumpet Voluntary), Jeremiah Clarke
Based mostly in trumpets, this beautiful orchestra piece, with its high and low notes, gives a sort of celestial and lifted halo for a magnificent entrance.
Canon D, Pachelbel
The iconic harmony found in this composition through violins or piano and bass, has an historical record from the 19th century providing these days weddings a classical setting. It's so widely know has even made its way into pop songs, films, and adverts.
Cello Suite No. 1 in G Major, Bach
All the deepness and sobriety a cello provides goes very deep in an audience, even more if the composition is being played by live performers.
Kiss the Rain, Yiruma's Piano Collection
A sweetest bridal assonance starred by unique piano notes and its harmonious rhythm would transform the entrance into an even more memorable moment.
The Flower Duet, Lakmé (Pablo Citrion Piano Version)
The Flower duet is also used as a concert piece in advertisements and films. It has been adapted and versioned quite various times in opera, piano and cello. Its jovial but mellow sounds and pace would complement your walk perfectly.
The Four Seasons, Vivaldi
Each station of the year is represented by one part in the concerto. The changes of season and melancholy or joy in the harmony make them noticeable. Some stops are added to give that respective dramatical touch classical music owns.
Jesú, joy of man's desiring, J.S. Bach
Backed by a choir which voices provide a dulcet tone to it, this musical piece transforms second by second into a influx of pleasant and graceful sounds.
Mellow Songs To Walk Down the Aisle To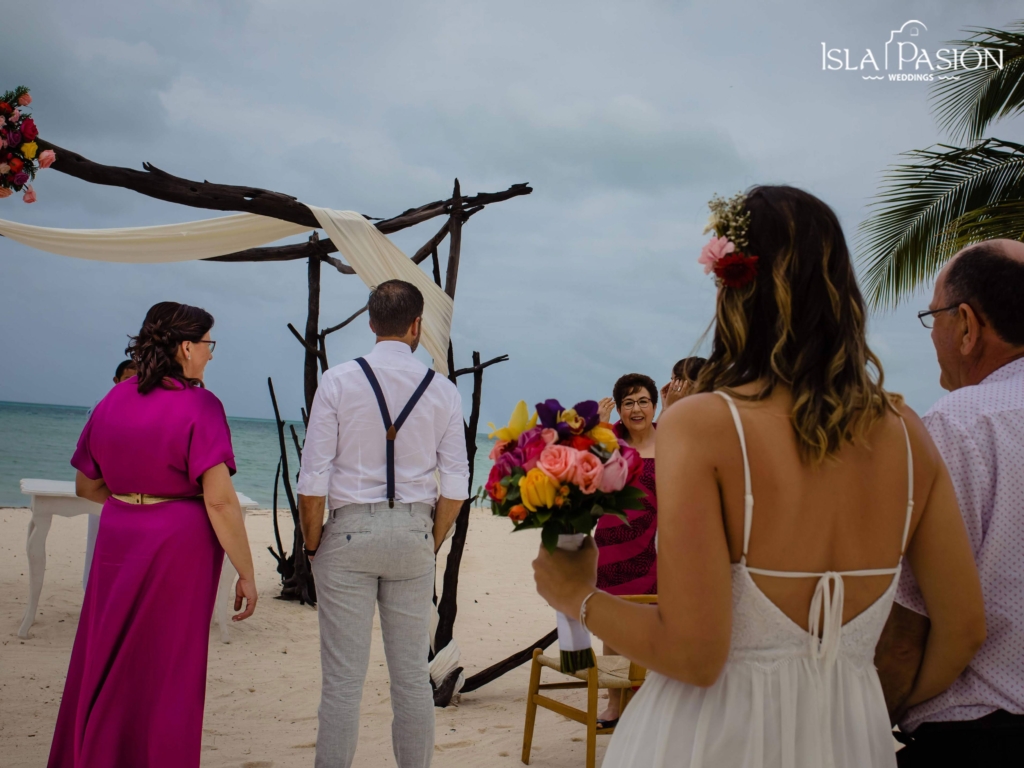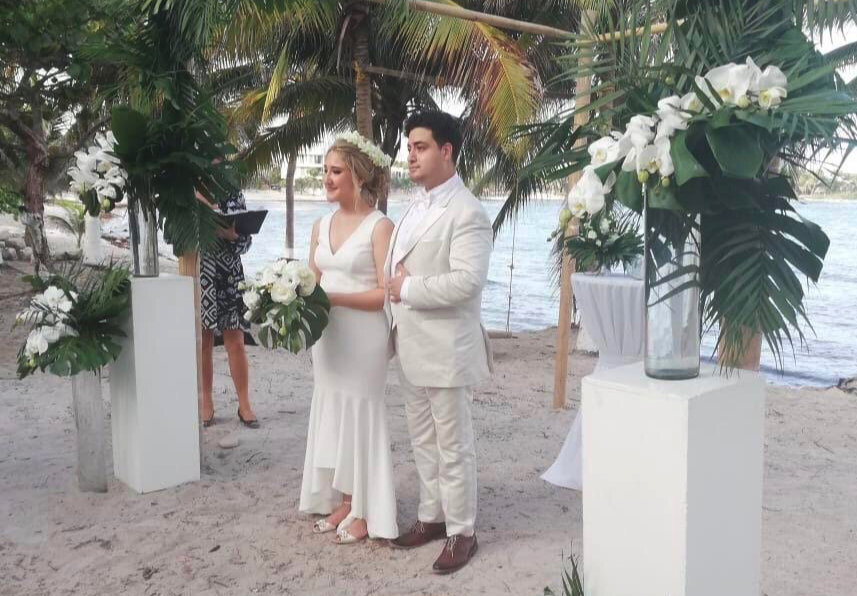 Marry me, Train
Doesn't the name sound familiar? This song is well known due to its presence in multiple adverts. In it, love at first sight and connection have never been described better than in this song. But not only that, love felt by that person and closeness without having said the first word is gently mention all the way.
You are mine, Spencer Combs ft. Holley Maher
First glances of piano and violin create the opening to what the explanation of long lasting love and your heart belonging to somebody would be. Soft melody accompanies the lyric all the way, having high tempo at times to set a different pace.
All of me, John Legend
If there's one song that mentions how dispose a person is to give all of them to somebody and having that in return, it is this one. All the deep and glorious feeling of loving a person and their whole self also leads the way of the delicate single piano notes all over the song. With 1.6 billion views on Youtube, many couples have found their feelings described within the melody.
Thinking out loud, Ed Sheeran
Ed Sheeran has brought new riffs and a creativity to the scene when writing about love. Diving yourself in all the emotions, feelings and great moments having a loved one bring with itself is sky clear defined in each word of this mesmerizing melody and its, incredibly, 3 billion views on Youtube show how pleasurable it is to listen to.
Hallelujah, Pentatonix
This a capella version which in the background only voices accompany the lyrics, no musical attires are included in all the song. This one gives a renewal and intense feeling in every beat. It may give you goosebumps because its beauty is undeniable, all given by the deepness or high pitches of its singers.
The Only Exception, Paramore
Riffs of guitar, drums and bass, proper of Paramore are listened all along the song along with the description of those situations, mostly complicated ones, we go through when falling in love with a person or having a relationship, but also realizing the person that is in with you make you take this hard way and instead is the opposite of all bad things.
Say You Won't Let Go, James Arthur
Have you ever thought how life will be with that person? What about all those little details like being there in the worst moments of the day by day at work or just kiss that person in the morning? James Arthur's performance digs deep together with the riffs and music to turned the lyrics into emotional expressions of love.
The Vow, RuthAnne
Love and all what it comes with it can be both, a promise and a permanent reality. This turns the lyrics of this song very appropriate for the occasion defining in clear words what constant and real presence in the life of your beloved one is.
My person, Spencer Crandall
Right on the edge of romantic and sweet, this songs describes a lot the feeling of finding your right one. But not only finding or meeting them by chance, also discovering, inch by inch, why they're in that place in your life.
Promise to love her, Blane Howard
For grooms or brides, even though the pronoun her is used in the title, this song relates to that very committed promise of not only love, but to have and hold that person and put them as a priority. Relates mostly to all the process of asking for somebody's hand in marriage to their parents.
Upbeat Songs To Walk Down the Aisle To
Perfect, Ed Sheeran
I'm pretty sure everybody will start singing in their minds or doing low key lip sync to it. An iconic song that doesn't need much description than a memorable line by line narrative of how perfect love can be explained detail by detail. Its 2.4 billion views on Youtube are no other thing than a prove of how touching and amazingly good this song is. There are different versions with artists like Andrea Bocelli and Beyoncé.
Lucky, Jason Mraz ft. Colbie Caillat
A reminder of how fortunate one is of having that amazing human being right by your side, making your life more delightful to live moment by moment and making it a better trip with their delicate touch. Colbie and Jason join to give that touch of delicacy to the aira ti the song.
Just The Way You Are, Bruno Mars
If there's one sweet song to declare you acceptance of that person and confirming that, whether they think they look in a specific way, for you they are just perfect in their real and self version is this. Bruno Mars influences based on r&b and pop make it a great song to accompany you on your way to the altar.
Beethoven's 5 Secrets, One Republic (The Piano Guys Version)
The original song by One Republic is just a blast of emotions to listen to. This has been the soundtrack to many adverts, runways such as Victoria's Secret and movies. The vibrant up and down beats of this interpretation and intense cello backing all through the song. give it an intense harmony. Some classical touches of Beethoven's symphonies are added to it.
Marry you, Bruno Mars
Bruno Mars provided that tone of lifted mood you get that day, all the excitement an about-to-get-married person gets when the ceremony is about to start, but also when it's a sudden decision to become newlyweds right in the closest chapel. Dumb decision or not -like the song says- that impulse you get when you know you're right in front of that person is unstoppable. Glee performance also shows a great idea for a fun entrance.
For You, Liam Payne ft. Rita Ora
This goes to the 50 Shades of Grey lovers, like many out there. This more than an iconic song is one of the upbeat rhythms that can be sweet or heart-melting and joyful at the exact same time. Since 50 Shades was release and even before during the teasers, this song became a anthem due to one of the greatest events that happen during the saga.
Love Me Like You Do, Ellie Goulding
Another song for 50 Shades lovers, with 2.1 billion views on Youtube, this song became a love anthem, not only for the lovers of this movie but also anybody who listened to it because the unique way of loving a person has can lead us to fall even more for them and all we may want is continue exploring the way of life with them by our side.
Symphony, Clean Bandit ft. Clara Larsson
The delicacy and soft harmony this song was created with and the orchestra backing make it a wonderful piece of music. Some sudden upbeats join in some parts of it and to take your sensations on a roller coaster of emotions.
Everything, Michael Bublé
The first notes and the harmony of this melody are very marked from Michael Bublé creations. His delicate touch defines very well what your couple can mean to you, being everything the best description suitable of them.
Love On Top, Beyoncé
Beyonce has always been a creative musician and songwriter. More than one of her pieces make you explore the greatness music can provide to any moment and this is not the exception at all. That spirit lifting experience love is, that mystical experience submerging into the sea of love can be is specified in the lyrics, being in such a good harmonized by the upbeats everywhere in this song.
Girls like you, Maroon 5 ft. Cardi B
Grooms and brides, be ready to provoke some undeniable goosebumps on your soon almost-not-any-more fiancé with this absolutely beautiful song. With 2.6 billion views, this melody creates a wonder vibe of lovely feelings with breathtaking confessions of love declare between and in each line.