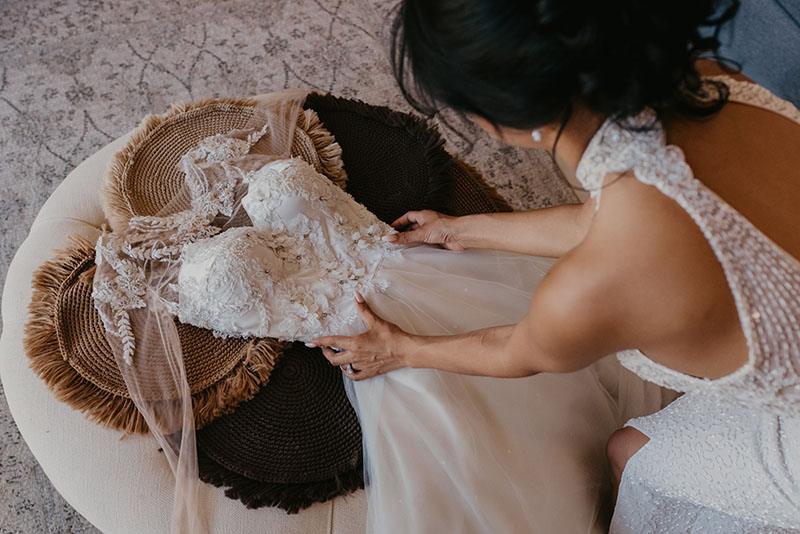 Every bride looks forward looking just spectacular and more stunning than usual on their wedding day. Now, traditional features change quite a bit when a wedding on the beach is the goal even though it will take a unique level of preparation and designing than a conventional church wedding. Furthermore, getting married on a beach turns into the most lovely and unforgettable day possible.
There are numerous factors to take into account once the location is chosen and the decoration is set. Other of the largest choices happens around your alternative of wedding gown.
Every beach bride desires that good wedding gown that may create their beach wedding good, comfy, and beautiful.
Here are some recommendations of our experts for selecting the proper one, that one right dress from the numerous options you'll find when selecting a beach wedding dresses.
Select it according to your location
We don't say you have to match your dress to the decoration, it's mostly to the items you'll have in it. If you'll have a carpet covering the sand, you may choose a dress with train if it's between your options just in case you won't have bridesmaids holding it. Otherwise, a no long train dress must be a choice so you don't include an extra issue to the deal.
Whatever level of ritual you select, make certain you're consistent throughout your decorations and party apparel. Beach weddings are often as formal as a conventional wedding or as casual and informal as your barefoot dreams!
Consider the Material of Your Beach Wedding Dresses
Most beach weddings must take warmth and heat into thought. Unless you're getting married on a beach within the middle of winter throughout a freak snow storm, you'll need breathable materials.
Touch is totally important
Beach wedding dresses must definitely be breathable, airy, and light. Among the nerves and expectation of thi huge event you willlike to be able to move freely and well. Keeping an eye on this avoids spending your whole day melting and feeling absolutely uncomfortable because of the warmth or sticky, scratchy, and stifling cloth. Try them on, feel fabric in you body and make sure you are comfortable in that dress that will make you look more stunning than normal.
Breeze, so don't freeze!
When you hear air going through palm trees and the sound of leafs moving one side to another, this immediately makes you think of the beach breeze, doesn't it? Well, keeping this element in mind is key. Here's when you need to pay attention to the length of the dress, think of a beach and how windy it'll probably be. I'm pretty sure you don't want any Marilyn Monroe scene with your dress right in the middle of your wedding that will make you freeze of shame. Now, keeping a certain length you like and not so loose style can help you a lot. On the other hand, lenght and tightness are a matter of perspective and taste.
Stilletos may not be perfect for some occasions after all
You may think this is a crazy thought but we recommend you pick shoes that will benefit your walk to the altar and your walk on the beach.
This is why during the beach wedding, stilletos and heels should be avoided, they can sink if it is a sandy beach and you are right on the edge of nasty twist of your ankle if it is a rocky beach. Go with a relaxed but not simple look with stylish shoes, cute flats, or even barefoot, don't be scared of a selection that will make you be completely comfortable from head to toe.
Too many layers may heat up everything
Looking for your dress from a hundred of options, you would be taking a look at all sorts of dresses Long sleeve dresses could look pretty dreamy, but you won't be pretty hot on an altar with all these layers of clothes if you choose a beach, summer wedding. We recommend that you take strapless and short models to make it a little easier to breathe and feel fresh.
If you feel a little more outrageous you can try other models that are not typical such as tea long or a mini beach wedding dress, of course if it fits your idea of wedding dress and taking into account you do not necessarily have to select a conventional board-length gown.
Have you thought about two options?
You may want to opt for a second wedding dress for your reception, whatever fabric or style you want, don't forget to include whether the reception is also on a beachy environment or in a venue with a solid floor on your selection. If it's merely in the beach you can pick something more beach-like, like a lightweight maxi dress or a trendy boho short, which gives you more comfort and flexibility as you dance, mix and mix. Moreover, your legit wedding dress will not be ruined if you jump into the water or just by chance you get to a silly beach game. You can take the chance of choosing those stilletos you wanted to show off about.
Veil or not veil at all at a beach wedding?
Although a veil is a typical part of the bridal gear, wear it for the wedding at the beach isn't a good idea. The veil will fly away if it's too light. In addition, it can totally ruin your hairstyle and you may hit your guests and even your fiance, very uncomfortable situations we'd like you to avoid. On the other hand, there are plenty of shorter styles like birdcags, blusher or finger tip veils that are just as stunning if you do not want to dismiss the veil of your dreams.
As brides, we want that moment to be much better than expected and watching out for this little -undercovered enormous- detail is a pass to that great success the wedding will become, but the most important fact this day is that you feel completely comfortable, you need to like it and love it. It's your day. This way those beautiful memories will be creating that day, second by second, won't be messed up by anything at all.